LaserHealth Solutions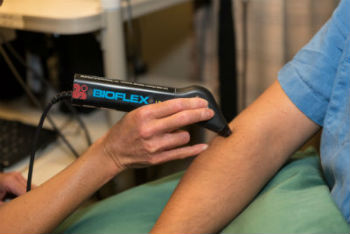 Illuminating the Path to Greater Health
Since 2004, Laser Therapy, also known as cold laser or low-intensity laser therapy, was implemented at Panorama Chiropractic to allow us to treat a variety of conditions that would not normally respond as well to chiropractic care alone. It matches up with the chiropractic philosophy of being natural and not introducing anything synthetic into the body.
Instead, it facilitates the body to heal itself through red and infrared light. In this process, we use a super illuminous and laser light to stimulate healing processes in tissues that are diseased and injured. Both chronic and acute injuries respond well, and we have treated children all the way up to those in their 90s with this therapy.
Offering Advanced Laser Therapy
The Bioflex® laser system was developed by an orthopaedic surgeon based out of Toronto. Panorama Chiropractic was the first office in British Columbia to offer it over a decade ago. The technology continues to evolve, and we incorporate these advancements by using the newest equipment and taking seminars or courses to give our patients the greatest benefit.
Sports Injuries Welcome!
Dr. Rob is well-versed in treating athletes of all levels and has even seen players and coaches from the BC Alliance. Some of the conditions we've successfully treated are fractured collarbones, groin pulls, hamstring strains, strained knees and patients who are post-surgery.
Thrive and experience optimal wellness. Contact our friendly team today to find out more!

Laser Therapy Surrey BC | (604) 575-1348