Back in 2004, we were proud to be the first office in British Columbia to offer the Bioflex® laser system. Over the years, we've kept up with the latest developments in laser therapy to continue providing the best care to our patients.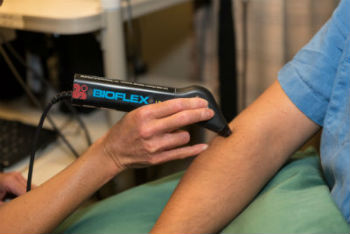 If you've been bothered by persistent pain, we want you to know that there is a better option than trying to ignore your discomfort. The many benefits of laser therapy include
Decreased inflammation and swelling
Enhanced range of motion
Pain relief
Minimized scar tissue
Strengthened tendons and ligaments
Improved quality of life
Are You a Candidate for Laser Therapy?
There are few contraindications for laser therapy, meaning nearly anyone is a candidate. If you are bothered by an injury or pain, our laser will address your repair and healing at a cellular level. Laser therapy can be particularly powerful when combined with chiropractic care, which will optimize your body's infrastructure.
Attend Our Next Laser Therapy Talk
Dr. Rob will be holding a free talk on laser therapy in our office on Thursday, April 18th at 6:15 p.m. If you'd like to learn more about laser therapy, how it works and whether it might be right for you, this is your opportunity. Contact us today to reserve your seat!