Custom Orthotics
You do not have to be a patient to order our products. Contact us today if you have any questions or would like to place an order.
Custom Orthotics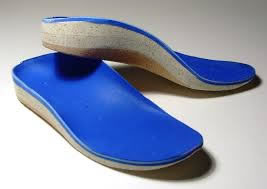 Custom orthotics fit into your shoes as comfortably as an insole – and they have the advantage of having been made from precise imprints of your feet.
Orthopaedic Sandals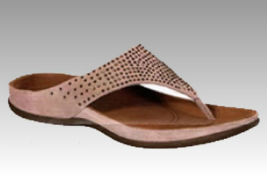 With orthopaedic sandals, our patients can enjoy their orthotic support without abandoning their favourite summer accessories! Moreover, our orthopaedic sandals are so comfortable that they will even want to wear them during otherwise barefoot or slipper-wearing evening hours!
What is a Custom Orthotic?
A custom orthotic is a device designed to align the foot and ankle into the most anatomically efficient position. They look like insoles, but are biomechanical medical appliances that are custom made to correct your specific foot imbalance. Custom orthotics work on your feet much like glasses work on your eyes – they reduce stress and strain on your body by bringing your feet back into proper alignment. The plastic body of the custom orthotic helps to re-align the foot by redirecting and reducing certain motion that takes place during the gait cycle. Custom orthotics fit into your shoes as comfortably as an insole – and they have the advantage of having been made from precise imprints of your feet.
Benefits
Help to control pronatory forces during gait.
Help to balance the transfer of load from the rear foot to forefoot during gait.
Reduce Muscle re-activation which in turn can reduce muscle fatigue
The Orthotic Group – GaitScan Technology
We use the TOG (The Orthotic Group) GaitScan technology to assess the biomechanics of our patients feet and then use a (OHI 1Scan) 3D laser scanner to scan the patients foot to make their custom orthotic.
GaitScan is an innovative diagnostic tool and digital casting device allowing practitioners to analyze patient biomechanics and order custom orthotics. With 4096 sensors and a scan rate of 300Hz, GaitScan is the industry leader in dynamic scanning capability. GaitScan provides a comprehensive biomechanical evaluation for each patient and provides in-depth reports with access to over one million data points to assist in effectively diagnosing & prescribing orthotic solutions.
Cloud-Based 3D Scanning Technology at it's best!
Capture scans quickly & easily. Through the app, you're able to attach the 3D scan to the completed order form and submit the orders to us instantly.
We will create your patient's custom orthotics based on the 3D image along with your specifications. You're able to track the progress at a glance on the main page. At the end of the process, you'll receive the same high-quality custom orthotics you've come to expect.
Gait Scan Technology
Dynamic Scanning
As your patient walks across the GaitScan™ plate, 4096 sensors are set to scan the plantar surface of the foot in motion. The GaitScan™ system records timing sequences during gait and captures the relative pressure for each of ten distinct anatomical landmarks. The result is the detection of imbalances and other indicators of common lower limb pathologies
Pressure Mapping
GaitScan™ gives you the ability to view a patient's plantar pressure distribution in both 2D and 3D. The synchronized mode allows for a direct right and left foot comparison and displays the centre of pressure or "gait line" of the foot throughout the gait cycle. Detailed images allow for the easy identification of high pressure areas and existing biomechanical inefficiencies.

Custom Orthotics | (604) 575-1331