Meet Dr. Rob Skleryk
From the Laboratory to a New Career Path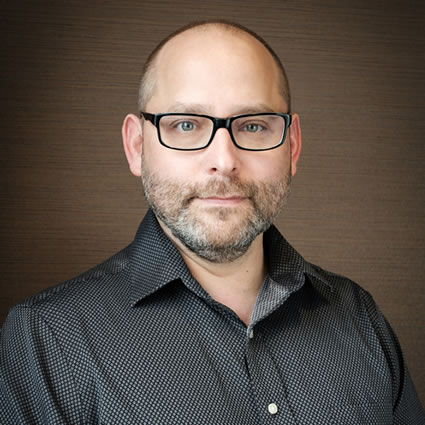 As he was completing a Master's degree in science, Dr. Rob was introduced to chiropractic by a friend who was studying to become a chiropractor. He attended some classes with his friend and was immediately interested. "I wanted to interact with people, not sit in a laboratory staring at test tubes all day." Chiropractic's natural approach free from drugs and surgery appealed to Dr. Rob. He attended Canadian Memorial Chiropractic College. It was there that he met Dr. Y.Y., who became his wife and business partner after their graduation in 1997.
I always try to understand how new technologies can benefit my patients.
Modern Healing Options for Better Results
After he received his chiropractic education, Dr. Rob realized that he could learn even more avenues to help his patients. Taking ongoing courses has allowed him to implement different techniques and strategies in the practice, such as the Bioflex® Laser System. Dr. Rob is skilled in both manual and instrument-based adjustments, and can fit you for orthotics to support your body's biomechanics. He enjoys educating people about living a healthy lifestyle and seeing them go from being in extreme pain to feeling better and functioning at a higher level.
Becoming a Part of the Surrey Community
Over the course of his years in practice, Dr. Rob has developed relationships with many of the people in his community. He sees many babies and children, often those of his patients who first saw him years ago when Panorama Chiropractic opened. "It's amazing how time flies by, seeing the impact we have had on our patients' health." He is a member of:
The British Columbia Chiropractic Association
The Canadian Chiropractic Association
The International Chiropractic Pediatric Association
Outside of the Practice
Dr. Rob stays busy cycling with a group of friends. He has participated in Ride to Conquer Cancer® for five consecutive years, travelling for 250 kilometers over two days from Vancouver to Seattle. He has also completed the Grand Fondo Ride and Ride 2 Survive, fundraising for cancer during a one-day, 400-kilometer bike ride from Kelowna to Delta.
With two daughters who are both involved in Scouts Canada, Dr. Rob has volunteered as a leader with the organization for over 20 years.
Find out what Dr. Rob may be able to do to improve your life. Contact our practice today!

Dr. Rob Skleryk | (604) 575-1331