New Patients at Panorama Chiropractic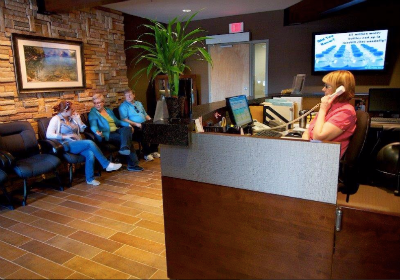 At Panorama Chiropractic, our friendly team is always ready to greet and welcome you. On your first visit, we get to know you and understand how best to help you. You can think of it as collecting puzzle pieces. Then, we will determine how the pieces fit together and what the big picture shows. The next time you see us, we will review your examination findings and discuss our recommendations to best help your particular problem. Read below to find out more details.
Getting Started
You will meet our front desk staff and be given an intake form to fill out. Then, we will take you on a short office tour before escorting you to an examination room. You will watch a brief introductory video about starting chiropractic care. Dr. Rob or Dr. Y.Y. will introduce themselves and ask what has brought you in, immediately addressing your concerns. They will take your history and review any information such as medical records that you may have brought in. Next, they will discuss your medical history to determine the source of stresses in your life.
We will take some measurements to further understand the problems you may be experiencing. To see how your nervous system is adapting to your environment, we will use the advanced
Insight™ Subluxation Station
, taking scans of your body's
Heart rate variability
Thermography
Surface electromyography
From there, we will do a physical chiropractic examination to look at your posture, movement patterns and range of motion. We may do some orthopedic or neurological testing based on those results.






We will do a 3-part computerized nerve scan of your central nervous system to detect any disturbances. This will give us your COREScore, a measurement of your neuro-spinal health.

We will want to take our time to review your examination results and be ready to present them to you.
Using COREScore information allows us to measure your progress beyond symptom care and to strive towards your optimal health expression and function through an optimized nervous system that allows you to readily adapt and process stress (mental/emotional, chemical and physical). Knowing your COREScore helps us see which support pillars to health require attention, and helps us to proactively make personalized changes to raise your level of function and overall wellbeing. We incorporate Insight Subluxation scans for all our well care programs, as it is about improving health and well-being versus simply symptom relief.
Likewise, our insight measurements also help us to identify and chart musculoskeletal injuries, such as whiplash, sports or chronic conditions, objectively.
During this visit, your chiropractor will review your scans and relate them to your history, examination results and current complaints. The doctors will go through the techniques they use for your chiropractic care and get your consent to begin. They may make additional recommendations regarding diet, activities and ergonomic products to maximize your recovery. chat about supplements or other products that we think can benefit you.
Your chiropractor will follow up after your first treatment to answer any questions you may have.
On your subsequent visits, you will come in and the doctors will do a review of how you are progressing. You will lay comfortably on the table and be checked and adjusted. At regular intervals, the doctors will repeat scans and make sure you are progressing.
Reaching Out to the Surrey Community
Dr. Rob offers monthly workshops, often on the benefits of laser therapy at our office. You will also see various topics displayed in our office that we will talk about, and weekly newsletters you can take home with you. As we take continuing education courses, we make sure you reap the benefits of our new knowledge.
Occasionally, we will hold open houses that everyone is welcome to attend, complete with refreshments and food. During these events, we hold mini-lectures so that you can sit down and learn what we do at our office.
Additionally, Dr. Rob is available to visit your place of employment for spinal screenings, your school to talk about backpack safety or area races to talk about athlete care. We can also bring the state-of-the-art Insight™ Subluxation Station with us to educate people on the health of their nervous system.
Interested in learning more? Contact our office today to find out more about our events!
CONTACT US

New Patients at Panorama Chiropractic | (604) 575-1331