Posture and Therapy Products
You do not have to be a patient to order our products. Contact us today if you have any questions or would like to place an order.
Posture Medic
Price: $45.00
The Posture Medic can help you improve your posture and strengthen your back and core muscles. By doing the stretches and exercises you can improve your posture, reduce pain and improve your overall health with the Posture Medic.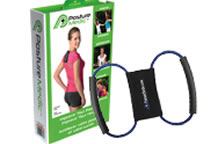 Exercise Band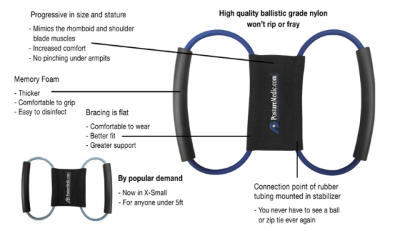 The Posture Medic is a posture reminding resistance band that helps you stretch, strengthen and stabilize your back. We developed a 6-week program to guide you towards better posture. You will learn how to stretch those tight muscles in your chest, neck and back. This increases your range of motion by loosening tight muscles, thus allowing you to straighten your back. Our strengthening exercises specifically target the muscles in your neck and back that help you maintain proper posture. These back and neck muscles are often overlooked when working out and are underutilized due to our poor posture.
Back Brace
Throughout your busy day, you often end up slouching or hunching over without realizing it. This compresses your spine and tightens your chest and neck. Your upper back ends up weaker because it's not engaged properly. And where does all this lead? Poor posture! And sometimes to pain. Posture Medic helps stabilize your posture by holding your shoulders further back and reminding you to "straighten up". Wear the Posture Medic to help you develop the habit of straightening your back and shoulders. And you can do this without missing a beat!
Cold Therapy Ice Pack
Price: $11.00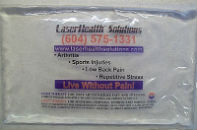 Simple application of a cold pack or ice placed in a plastic bag and wrapped in a towel or other protective barrier (to protect the skin from ice burn) is one of the most effective pain relief treatments available.
Using an ice or cold pack
Apply a cold pack to the injured or sore area at least 3 times a day for as long as you have pain, swelling, and inflammation. For the first 72 hours, ice for 10 minutes, once an hour. After that, use ice for 15 to 20 minutes, 3 times a day: in the morning, in the late afternoon after work or school, and about one-half hour before bedtime. Also, ice after any prolonged activity or vigorous exercise.
Always keep a cloth between your skin and the ice pack, and press firmly against all the curves of the affected area. Do not apply ice for longer than 15 to 20 minutes at a time, and do not fall asleep with the ice on your skin.
*Our Pricing Includes Taxes

Posture and Therapy Products | (604) 575-1331